Eid Milad Un Nabi, also known as Mawlid al-Nabi, stands as a vital Islamic holiday that honors the birth of the Prophet Muhammad and observed every year in the month of Rabi-ul-Awwal, the third month of the Islamic lunar calendar, which commences with the sighting of the moon.
This significant occasion brings communities together, merging spiritual devotion with cultural celebrations. This post delves into the origins, importance, and festivities of Eid Milad Un Nabi, along with insights into its 2023 celebration. So keep reading it and don't forget to share.
What is Eid Milad Un Nabi
This festival, signifyies the "Birth of the Prophet," that falls on the 12th day of Rabi' al-Awwal, the third month in the Islamic lunar calendar. The day carries deep spiritual meaning, offering Muslims a chance to show reverence for the Prophet Muhammad, the last messenger of Allah.
On this special day, people attend special prayers, reciting poetry and naats, engaging in acts of charity, and reflecting on the teachings and virtues of the Prophet. Many communities also decorate mosques, share festive meals, and participate in gatherings that promote unity and remembrance of the Prophet's role as a guiding example in Islam.
Why is Eid e Milad un Nabi celebrated?
Eid Milad Un Nabi is celebrated to honor and remember the birth of the Prophet Muhammad, the founder of Islam, who was born in the city of Mecca on the 12th day of Rabi-ul-Awwal in the Islamic lunar calendar.
This occasion holds immense significance for Muslims as it provides an opportunity to reflect on the Prophet's life, teachings, and exemplary character.
By celebrating his birthday, Muslims aim to strengthen their connection to his teachings of compassion, justice, and kindness, which serve as a guide for leading a righteous and fulfilling life. While the celebration's observance varies among different cultures and communities, its essence lies in expressing gratitude for the Prophet's role as the final messenger of Allah and his pivotal role in spreading the message of Islam.
Through gatherings, prayers, acts of charity, and contemplation, Muslims seek to deepen their understanding of the Prophet's legacy and draw inspiration from his profound impact on the world.
How is Eid Milad Un Nabi celebrated?
The celebrations of this festival encompass a blend of spiritual and cultural rituals that differ across regions and communities.
Festivities commence with gatherings in homes or mosques, where religious leaders deliver sermons, shedding light on the Prophet's life and teachings. Devotional songs, or naats, are sung to convey love and respect.
Parades and processions are commonplace, featuring colorful displays, speeches, and engaging activities. Some areas ornament streets and homes with lights and decorations, establishing an atmosphere of festivity.
Acts of charity, including food distribution to those in need, are highly encouraged and many people donate it in different organizations.
Eid Milad Un Nabi in 2023
Observances: Birthday of the Islamic Prophet Muhammad
Date: Wed, 27 Sept, 2023 – Thu, 28 Sept, 2023
Event Length: 1 Day
Featured in religions: Islam, Sunni Islam, Shia Islam
Type of holiday: Islamic holidays, Religious holiday
Eid Milad Un Nabi Wishes
Would like to wish someone on this special day? then checkout the following best wishes which you can send to your loved ones family, friends on WhatsApp, Twitter #EidMubarak, share video on YouTube, Facebook, Instagram…
May the blessings of Eid Milad Un Nabi fill your heart with joy, your soul with peace, and your life with love. Happy Mawlid!
On this blessed occasion of Milad Un Nabi, may the light of the Prophet's teachings guide you towards righteousness and happiness. Eid Mubarak!
Wishing you a day filled with remembrance, reflection, and the joyous celebration of the Prophet's birth. Happy Eid!
May the mercy and blessings of Allah be upon you and your family as you commemorate the birth of the beloved Prophet Muhammad. Eid Milad Un Nabi Mubarak!
As we celebrate the birth of the Messenger of Allah, may his teachings inspire you to be a source of goodness and compassion in the world. Eid Mawlid Greetings!
Images for Eid Milad Un Nabi
To enhance the festive ambiance, download and share happy Eid Milad Un Nabi images featuring quotes, blessings, and depictions of the Prophet Muhammad. These images are readily available on Islamic websites and social media platforms, enabling you to spread the message of unity and love.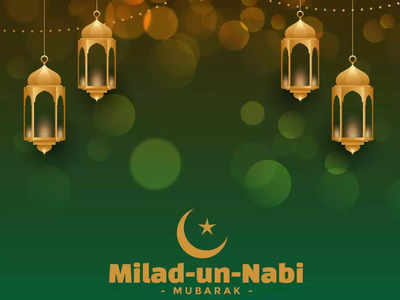 FAQs
Is Miladi Nabi a National Holiday?
Eid Milad Un Nabi's observance varies globally, adapting to different cultural and religious practices, making it non-uniform as a national holiday.
What is the History of Eid Milad?
Eid Milad's history traces back to the 8th century when its observance began in diverse Islamic communities. Over time, it gained prominence, evolving into a cherished occasion of devotion to the Prophet Muhammad.
When is Eid Milad Un Nabi Date 2023?
In 2023, Milad-un-Nabi will begin on the evening of 27th September and end on the evening of 28th September (dates may vary).
As this is the special day, it is observed in Pakistan, India, Bangladesh, Indonesia, Egypt, Turkey, Morocco, Saudi Arabia, Nigeria, Tunisia, Jordan, Malaysia, United Arab Emirates, Qatar, Oman, Kuwait, Sudan, Algeria, Iran, Iraq, Afghanistan, Yemen, and more.
How to Celebrate Eid Milad Un Nabi?
Everyone who would to celebrate they all should go to special prayers, listening to talks, helping others, and thinking about what the Prophet taught. It is normal for family and friends to share wishes, messages, and blessings.
In addition to that, People buy and wear new clothes, visit each other, give sweets to their family members, and go to the mosque to say special prayers. They cook tasty food and plan a get-together. On this important day, some people even fast. People think it's good luck to help others on this day because Prophet Muhammad was also very kind and humble, so they give food and clothes to those in need to please him.
How to send Eid Milad Un Nabi quotes / wishes for free?
Want to send the Happy Milad Un Nabi quotes and wishes? Well you can utilize social media, messaging apps like WhatsApp, Telegram, or emails to spread heartfelt wishes in few seconds. A wealth of websites offer a diverse array of quotes, messages, e greetings  for this occasion.
In conclusion, Mawlid al-Nabi serves as a celebration of unity, love, and the Prophet Muhammad's teachings.
It holds immense spiritual significance for Muslims globally, marked by a fusion of devotion, culture, and acts of kindness. As Eid Milad Un Nabi 2023 approaches, let's seize the opportunity to reflect on the Prophet's life and integrate his teachings into our daily lives.