Vijayadashami is a major Hindu festival celebrated at the end of Navaratri every year. So for you we come with happy Dussehra wishes, quotes, and images which you can send to your friends and even you can use GIF images on whatsapp status.
Vijayadashami is observed for different reasons and celebrated differently in various parts of the Indian subcontinent.
In the southern, eastern, northeastern, and some northern states of India, Vijayadashami marks the end of Durga Puja, remembering goddess Durga's victory over the buffalo demon Mahishasura to restore and protect dharma.
In the northern, central and western states, the festival is synonymously called Dussehra (also spelled Dashahara). In these regions, it marks the end of "Ramlila" and remembers god Rama's victory over the Ravan.
On the very same occasion, Arjuna alone decimated more than 1,000,000 soldiers and defeated all Kuru warriors including Bhishma, Drona, Ashwatthama, Karna and Kripa, a significant example of victory of good (Dharma) over evil (Adharma).
Alternatively, it marks a reverence for one of the aspects of goddess Devi, such as Durga or Saraswati.
Here we come with a broad list of Happy Dussehra quotes, attractive and colorful images which you can use to send Dussehra wishes.
Happy Dussehra Quotes, Wishes, Images, SMS and Greetings
 Quotes
"Dussehra is a festival of victory of good over evil"
"Let us create a new life by conquering five eternal evils- Kaam, Lobh, Krodh, Moh, Ahankar.."
"Every Dussehra we learn a message that light always prevails. Let us follow this rule and enjoy the festival of Dussehra."
"Let's welcome Lord Rama's blessings. Let's conquer every battle with truth."
"Let this Dussehra end all your problems"
"Essence of Dussehra lies in the value of goodness"
"Drive away all the hurdles in your life and start a new beginning"
"Follow the path of Dharma to win all the battles against evil"
Greetings
Let's celebrate the victory of the forces of Good over Evil. Wishing you a very joyous Happy Dussehra!
Like the effigies of Ravana, may your problems also burn away. Wish you a victorious Dussehra!
May the true Spirit of Dussehra inspire you to work hard towards your dreams. Wishing you lots of Happiness on this Dussehra
Defeat the Ravana in you by overcoming vices like envy, sin, and rage. Stand tall like RAMA in every phase of life. Wish you a very righteous and prosperous Dussehra!
Like Shri Ram kills Ravana, And restores the faith of his people, May his victory Inspire you towards your own victories and greatness. Have an auspicious, inspiring and prosperous pooja this year. Happy Dussehra!
With devotion, determination, and dedication Ram won his people. Jay Shree Ram! Happy Dussehra!
May Lord Rama guide you and your family towards righteousness and shower blessings upon you. Happy Dussehra to you and your family.
Burn away all the stress and tension in your life this Dussehra. I wish you a prosperous Dussehra.
Images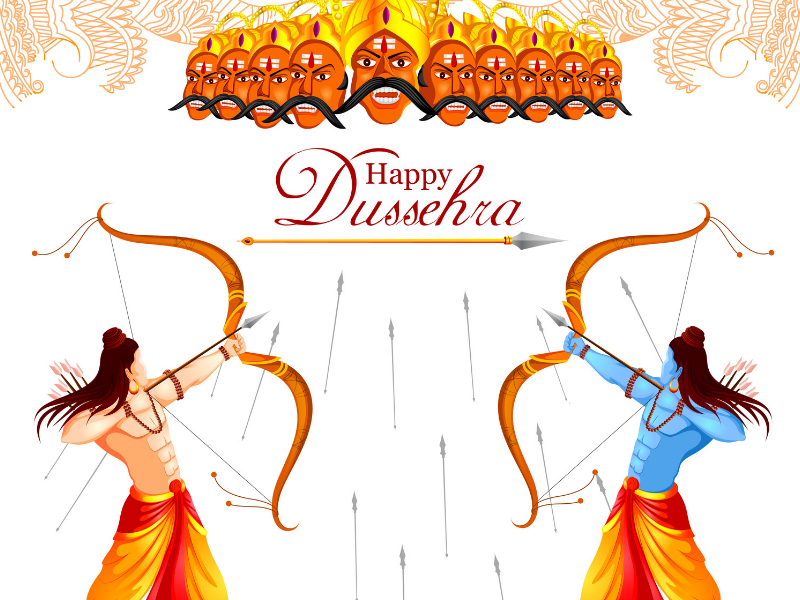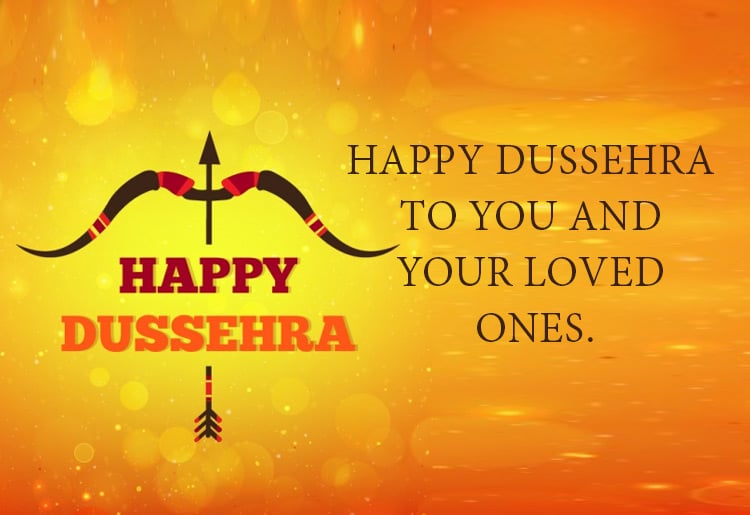 Please share happy dussehra images, quotes, sms to your friends and keep visiting our blog for more exclusive updates.