The Amarnath Yatra is a holy journey to the Amarnath Temple undertaken by Hindus and Shiva devotees every year in the months of July and August. So for this holy Yatra, a route is planned, people's registrations are done and when everything seems in order, the Yatra to Amarnath temple / cave begins.
Why Amarnath Yatra is popular among Hindus?
The Amarnath Cave is situated at an altitude of about 3,888 meters (12,756 feet) in the Himalayas. It is believed to be the place where Lord Shiva revealed the secrets of immortality to his wife, Goddess Parvati. The cave contains a natural ice formation that resembles the Shiva Linga, a symbolic representation of Lord Shiva.
The pilgrimage holds immense religious significance for Hindus, and it is believed that those who complete the yatra receive the blessings and divine grace of Lord Shiva.
Amarnath yatra 2023
The Amarnath yatra 2023 will start from July 1, 2023 and it will be ended on day the of Raksha Bandhan i.e. 30 August 2023.
Those who registered for this holy yatra, they have to reach at the selected center on 30 June. And if everything is ok, then the Yatra to Amarnath 2023 will begin.
Where you can get the latest updates on Amarnath yatra news
For Amarnath yatra news, you have to keep checking the latest on the local news channels.
Alternatively, you can keep visiting the shri Amarnathji shrine board website for more accurate and relevant information on your mobile or laptop.
official website: https://jksasb.nic.in
Additionaly, if you have given your mobile number then you can get all updates or alerts regarding weather, cloudburst via SMS or on Whatsapp.
Amarnath yatra registration
For this holy journey, you have to register on their portal 2 months prior to the journey. The registration fee of Amarnath yatra is around 120 to 200 only.
This a general process which has been going on for last 25 years.
So to register yourself for Amarnath yatra:
Go to https://jksasb.nic.in/onlineservices/register.aspx
And now fill all details like route of yatra, date of yatra, name, date of birth, address, and medical details.
Now make a payment and wait for final confirmation.
The last date of Amarnath yatra 2023 registration date was 30 April. So this year's registrations have been closed.
Now if you have been looking for how to start Amarnath Yatra, then you have to wait for next year until Amarnath yatra registration 2024 opens.
Amarnath yatra route
There are 2 routes from where the yatra has begun, Based on your registration (whatever route you chose), you have to visit that particular route.
You have to show your presence and when everything is valid, your yatra to Amaranth cave will begin.
The routes to Amarnath cave are:
Jammu –

Pahalgam

–

Holy Cave



Jammu

– Pahalgam – Chandanwari – Pissu Top – Sheshnag – Panchtarni –

Holy Cave
Jammu –

Baltal

–

Holy Cave



Jammu

– Baltal – Domail – Barari –

Holy Cave
In addition to that, Helicopter route is also available which you can only avail by booking a Helicopter.With this you will cover a lot of distance and reach to Amarnath Cave and get the Shiva blessing very quickly!
Amarnath Helicopter Routes
Baltal – Panchtarni – Baltal route (2 km trek to Holy Cave from Panchtarni)
Pahalgam – Panchtarni – Pahalgam route (6 km trek to Holy Cave from Panchtarni)
Amarnath yatra distance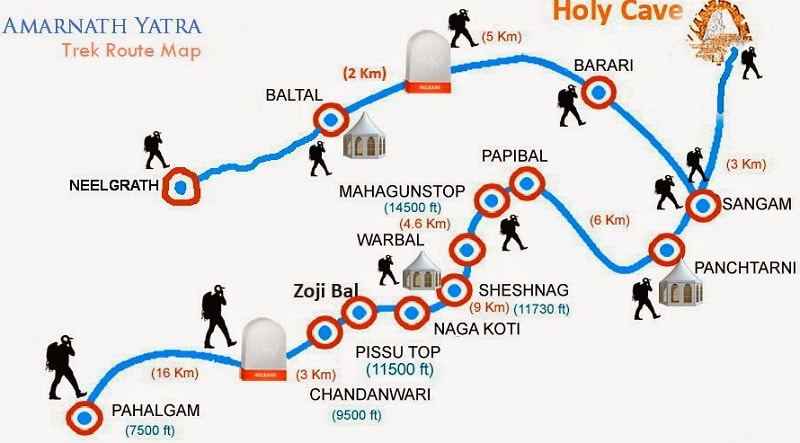 The Amarnath yatra distance varies from 36 to 48 km depending upon the devotion of the pilgrim. The trek usually takes 3-5 days one way. The Amarnath route is much wider than the Baltal trek and slopes gradually.
While traveling on these treks, you can chant om namah shivay matra and boost the confidence of other pilgrims.
In case of any trouble or injury, you can reach the nearest medical centre. The medical facility located at every 2 kms so visit it without any issue.
So guys that's all about Amarnath Yatra.
My best wishes to all of you for the Amarnath Yatra. I hope you all get the blessings of Shiva!!