Karva Chauth is one of the most important religious occasions in Hinduism and celebrated with enthusiasm all across India. This festive occasion marks the celebration of marital love, bonding and commitment. On this day, married women or newlyweds observe a fast from sunrise to moonrise for the longevity, health and prosperity of their husbands.
Part of the Karva Chauth celebration involves applying mehandi designs to their hands and feet. It is believed that these mehandi designs bring good luck and fortune in the married life of a couple.
To make it easier for women, we have put together some simple yet stunning mehandi designs that will be perfect for the occasion.
Traditional Designs
Traditional mehandi designs for Karva Chauth involve intricate patterns and motifs that are inspired by nature or Indian folklore. These designs feature floral motifs, leaves, peacocks, and other such symbols of love and prosperity.
For a classic traditional design, we recommend starting with small flowers or paisleys in the center of the palm. Then you can create a stunning border with interlocking patters and add some special motifs like leaves, peacocks or other symbols in between.
Minimal Designs
If you are looking for something more modern and minimalistic, then there are plenty of simple mehandi designs that will be perfect for Karva Chauth.
These designs usually feature a few simple motifs that are repeated on the entire hand or foot. For example, you could start with a single flower in the center and then create small circles around it. You can also add some leaves or other geometric patterns to make the design even more interesting.
Arabic Designs
Arabic mehandi designs are gaining popularity in India and are perfect for the occasion of Karva Chauth.
These designs feature bold and intricate patterns that are usually seen on the back of the hands or feet. For a beautiful arabic design, you can start by creating an outline for your pattern and then filling it with motifs like leaves, vines, or other symbols.
A classic arabic mehandi design can be completed with a few simple lines and motifs.
Peacock Feather Design
In India, peacock feathers are considered a symbol of beauty and prosperity. They are also seen as a representation of Lord Krishna, who is known to be the ultimate protector and shower blessings on his devotees. Peacock feather designs in mehndi add an extra aura of significance to this special occasion.
The intricate lines that swirl around the peacock feather motif create an eye-catching design that is sure to draw everyone's attention. The motifs of peacock feathers and small flowers are intricately placed within the lines, creating a mesmerizing pattern that symbolizes eternal love and devotion.
The art of Karva Chauth Mehandi is a perfect way to show your love and respect for your husband on this special day. Celebrate this beautiful occasion with the unique peacock feather design and be sure to leave an impression on everyone's minds!
Basic Floral Vine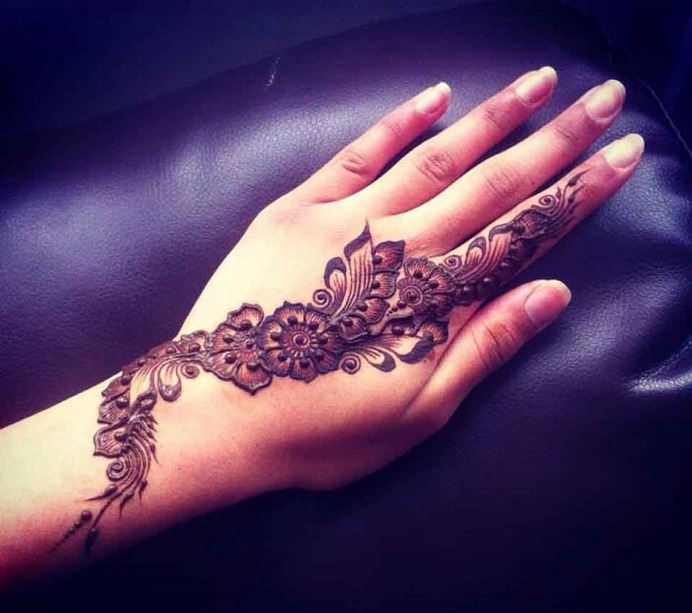 The most common motif in these floral vine designs is a mango-like shape in the center, surrounded by a larger leaf design that extends to cover the entire hand or arm. Traditionally, this vine symbolizes fertility and prosperity, as well as an undying bond between husband and wife.
In recent years, the mehandi designs have evolved and become more creative. Innovative geometric patterns and free-flowing flowered vines are seen in many modern bridal mehandi designs. While these new styles may look great, they also retain the traditional symbolism of Karva Chauth.
No matter which mehandi design you choose, it is sure to bring good luck and fortune in your married life. So go ahead and start practicing these stunning designs! With a little bit of practice, you will be able to create beautiful mehandi designs that will make you look even more beautiful on this special occasion.
September is the ideal time of year to begin practicing your mehandi designs as it gives you just enough time to perfect them before Karva Chauth arrives. So make sure to set aside some time for practice and get ready for an amazing day!
Happy Karva Chauth! 🤗🤗